Do Meal-Kits Still Fit The Bill?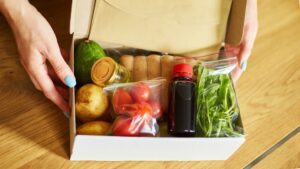 The COVID Effect
Meal-kits gained popularity quite early in the pandemic when lockdowns swept populations and kept people stuck at home—multiplying the number of potential customers. Many people turned to meal-kit delivery service in search of new meal ideas, or to simply learn how to cook during the pandemic. Now, due to various factors, it appears demand has peaked as consumers already have enough on their plate.
"As the pandemic has gone on, the product of meal kits has gone from a necessity and a convenience item, to a luxury, to a treat," said Mo Dezyanian, president of Empathy, a Toronto-based marketing firm. 
Cutting Back
Sylvain Charlebois, lead author of the Canada's Food Price Report, predicted some consumers will trade the now-luxury of meal kits and grocery delivery for less convenient but cost saving solutions.
"People are going to become more frugal as a result of higher inflation," he explained. The report estimated that the price of food would increase between five and seven per cent this year, and food that comes in the form of delivered groceries or online meal kits was forecast to rise an additional eight per cent beyond inflation. 
"What they're selling is convenience and inspiration—and that's expensive. People are looking to cut down on their grocery bills, so they're going to do [meal prep] themselves," says Janet Music, research associate at the Agri-Food Analytics Lab.
Pivot, Pivot, Pivot
From lockdowns easing and restaurants opening back up to geopolitical issues and the highest inflation rates in 30 years, meal kit services have a lot stacked against them. 
Food Navigator, however, explains that some meal kit companies are moving their attention to online marketplaces. This way they can provide extra grocery products and include "a la carté" items in addition to meal kit subscriptions. It points to companies like Imperfect Foods and HelloFresh as two different brands who have made the pivot in anticipation of the change.
Grocery retailers could also benefit from making moves in the meal-kit department. A recent survey conducted by the Agri-Food Analytics Lab at Dalhousie University, in partnership with Caddle, notes that grocers have improved at delivering food to consumers' homes, and some are offering meal kits themselves. According to NielsenIQ, the retention rate for customers of online grocery sites is also typically much higher. More than 80% of the time online grocery shoppers will go back to buying more food online. "If grocery stores are selling convenience and meal kits are also selling convenience, people are probably going to default to retailers because it's much cheaper," says Music.