New Non-Alcoholic Beers on Tap for the Sober Curious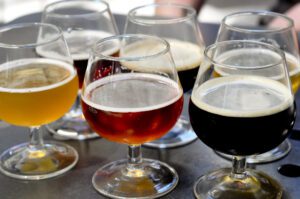 With a New Year and the overindulgences of the holiday season in the rearview, many look to January as a time of resolution; a time to take control of their health and well-being. Resolutions of promises to eat better, sleep more, exercise and in recent year, to cut out alcohol. Hashtags like #soberlife and #dryjanuary are trending. More and more people are "sober curious," and not just at this time of year.
Millennials are adopting a wellness-oriented mindset which includes selectively consuming products. The romance of self-destructive behaviours, boozy happy hours and forgotten moments are to some, being replaced with healthy alternatives. There are even sober "bars" where people can find community, support and entertainment without the pressure to drink. More consumers are rejecting alcohol-centric culture and drinking as a social currency and embracing life with reduced consumption of alcohol for several reasons and health consciousness is only one.
NA or no-alcohol products are being marketed by manufacturers as a way for consumers to engage in the social and cultural aspects of drinking-culture without the repercussions that often come with it. Consumers can socialize and enjoy without worrying about risks which allow them to be their 'best selves' 100% of the time.
A report from GlobalData determined that the fastest-growing segment of the beer market is amongst non-alcoholic offerings. So while these products may only make up a small fraction at 5% of the market by volume worldwide, the category has grown by 3.9% versus traditional beers .2% over the last five years. A report from Bon Appetit, found that the market for these beverages is expected to grow by over 30% in the next few years.
Marketers are working hard to rebrand and destigmatize the image of NA beverages — ending the perception that these drinks are intended only for those in recovery or that imbibers are "missing out" by opting for this route. 20% of low or no-alcohol products are purchased as an alternative to soda,
Two of the newest entries into the NA beer market come from popular brands that are known for their quality and taste.
Packaged in the brand's traditional green, Heineken 0.0, appears visually indistinguishable from the original beverage. The brew is twice-brewed and fermented with the company's unique A-yeast. They use the same quality ingredients to produce a beer that shares the fruity notes found in the original brew but with a "soft malty body." The perfectly balanced and refreshing beer comes in at a mere 69 calories per serving and is priced on par with the original.
At only 45 calories per serving, Molson Coors Edge beer serves up the classic Coors lager taste with less than 0.5% alcohol by volume. The product is double-brewed and made with quality ingredients. The product made headlines when it became the first non-alcoholic beer to be offered on Amazon. The product is available in both six and 12 packs of 355ml cans via CJR Wholesale Distribution.