What can grocers expect after COVID-19?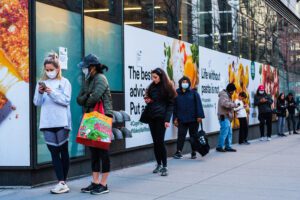 What can grocers expect after COVID-19?
Amid the ongoing COVID-19 pandemic, grocery shopping has changed from being a routine errand to a logistical minefield. With social distancing and an emphasis on safe sanitary practices, grocery stores have had to adapt to alterations in the shopping landscape. Before the pandemic, food from bars, cafes, coffee shops and the rest accounted for nearly half of the nation's consumption.  The grocery industry predictions for 2020 were far different last year then they are today. Now consumers, many of whom are now cooking at home and facing financial uncertainty, will be slow to flock back to the bars and restaurants. Therefore, grocery stores need to adapt to this major shift in the way food is consumed.
The long-term effects of prolonged lockdowns and fear of public spaces have got many asking, what will shopping for food look like in the post-pandemic era?
Fewer trips to the store
To stay safe, consumers have been advised to make less but larger shopping trips and it's highly likely that consumers will continue this trend for months and maybe years to come. The ongoing fear of contagion will mean spending as little time in enclosed spaces. Until it is 100% guaranteed that guests will not contract COVID-19 when going out, grocery stores will have to dedicate resources towards keeping their physical locations exceptionally clean.
Curbside pickup & online ordering
The global pandemic has led to consumers looking for alternate shopping methods. In order to reduce coming into contact with other people, there has been a rise in curbside pickup and online ordering. This new focus on health and safety combined with a hectic return to schedules will mean the continued high volume of online grocery shopping and curbside pickup. Many older consumers have been forced to learn how to shop online for their groceries and are now seeing huge benefits like convenience.
In-store Interactions
In the interest of health & safety, there could be a shift towards lessening the usage of self-service stations, self-serve bars, and free food sampling. At first glance, one might think self-service machines help evade the spread of germs as it involves little to none human contact but unfortunately it is not that simple. Most self-serving machines are incompatible or are hard to use with gloves which means screens and keypads are a high point of constant human contact. Grocery stores might have to prioritize decreasing touchpoints and limiting areas where cross-contamination seems likely.
With a shift away from traditional shopping habits, the grocery shopping environment is going to be very different in the next couple of years, but that doesn't have to be a bad thing. These changes mean grocery stores have to be ready to evolve and explore how they can meet the needs of their consumers.