Year in Review in the Grocery Industry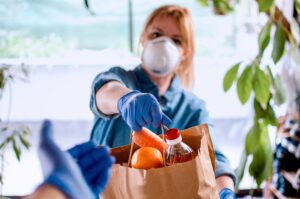 2020 has challenged all Canadians in many ways, but none so much as the front-line workers, who have been just awarded the Nation Builder of the Year Award. 
Food retailers and their frontline workers have done an incredible job continuously adapting as protocols shift and change in reaction to the COVID-19 pandemic ravaging Canada. 
After 10 months of "new normal," Grocery stores and their supply chains have pivoted their services and built systems to help keep customers safe and serviced. Food suppliers from farm to table have been the centre of local communities for thousands of years, and the familiarity and trust they've always had has only increased. With 2020 nearly over, here's a snapshot of everything the grocery industry has been through this year:
January
2020 began with single-use plastic at an all-time low

Grocery delivery apps predicted to rise by 7% in the next few years 
February
March 
essential items like toilet paper, eggs, milk sold out

hand sanitizer demand booms

delivery service app

downloads surge

80 billion dollar food service industry is virtually decimated

CJR Wholesale one of the only grocery suppliers that does not run out of essential products
April 
Essential product supply gets reinforcement and shortages are replenished

masks, plexiglass, new cleaning protocols, and limited capacity for foot traffic in grocery stores  are standardized

Physical distancing and enhanced safety procedures

increase operation costs

by 5% 

Hero pay officially implemented

Some stores providing early hours to front line workers and seniors only 
May
Canada adapts to the new normal and all major grocery stores and their suppliers

give up reluctance to plan for grocery delivery

and adapted procedures

Baking ingredient sales are at an all time high 

Terms like "contactless delivery" are normalized

Prime Minister announces plan to amend the Canadian Dairy Commission Act and increase the Canadian Dairy Commission's (CDC) borrowing limit by $200 million
June, July & August
September 
Data suggest 700,000 Canadians have experience food insecurity since March

Schools open and huge spikes in COVID-19 cases result

Indigenous seafood suppliers

experience acts of vandalism

Grocery sales dip as restaurants reopen

Tensions between suppliers and grocery stores grow due to i

ncreased fees
October & November
Nova Scotia farmers

receive 1.2 million to offset COVID costs

Indigenous seafood suppliers begin negotiations with government to protect treaties 

Covid cases increase after thanksgiving gatherings

Conversations around COVID-19 vaccine provide hope for Canadian businesses in every industry

Some Hero Pay reinstated
December
Second lockdown in Toronto & the GTA 

Restaurants are far better prepared than in March 2020 and have adapted their service offerings to meet grey zone criteria in Ontario

Restaurants are required to close for the second time in 2020 
What's next for 2021? Leave your comments below.