Ontario's Post-Covid19 Grocery Industry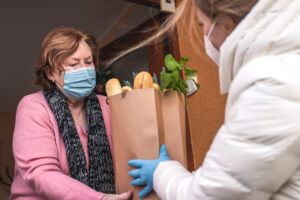 COVID-19 has brought to light aspects of food retail that most consumers had formerly taken for granted. The period of panic-buying has curbed as consumers have become accustomed to the "new normal" of grocery shopping. New shopping patterns, with higher reliance on online and delivery options, have become commonplace. With customers' expectations in grocery shopping forever changed, the bar to "thrive" is now set high for all grocery retailers. 
New reports from the Brookfield Institute for Innovation + Entrepreneurship (BII+E) and Deloitte explore trends in Canada's grocery industry, from customer's changing habits to the rise in online shopping since the pandemic.  
Customers of all ages, especially the older demographic, have successfully made the shift to online shopping. This has helped generate a rapidly changing landscape for food retail that could be long-lasting. The post-COVID consumer's focus on health and safety combined with a hectic return to schedules will likely mean the continued high volume of online grocery shopping and curbside pickup. These shifts have produced an economic climate ready for alteration, with a call to "realign supply chains, redefine what parts of the food workforce are essential, and gain a deeper understanding of how to connect with loyal customers through social media."
 According to Deloitte:
66% of all respondents—and 72% of those 35 to 54—say they're cooking meals at home more than in the previous year;

63% prepares dinner from scratch four to six times a week; 85% spent more on fresh produce;

79% spent more on plant-based milks and other non-dairy products; 72% spent more on meat alternatives; and

40% is spending less on baked desserts, prepared ingredients and hot ready-to-eat meals
Cooking more from home is in alignment with previous trends that had been growing pre-pandemic, such as consumer's increased interest in their health and wellness, environmental concerns around being sustainable, and reducing waste. 
According to the Deloitte report, the expected increase in dining out when restaurants reopen will not reverse the increased interest in home cooking. "Consumers will continue to add new recipes to their rotations, looking to grocery stores for meal inspirations and expecting more from in-store associates than speedy checkouts," the report reads.
The pandemic also led Canadians to try new food shopping options for the first time including:
25% tried curb-side pickup;

15% tried grocery delivery;

15% tried third-party food delivery services; and

10% tried meal-kit delivery
The transfer to buying online both in the last few years and as a result of the pandemic has led to a rise in loyalty program memberships and with them, corresponding information. Even if a customer is not officially part of a loyalty program, transactions made online still expand the data of food retailers, as well as its benefits and capabilities. However, explicit rewards programs remain important, especially for larger retailers. 
As a result of these programs, acquisitions, and membership growth, retailers have been able to capitalize on direct contact and access to most consumers in Canada — creating actionable business insights while also developing an offering of a number of services outside grocery. Such a large and loyal platform has the potential to create a new form of competition between the brands that it stocks.
With a shift away from traditional shopping habits, the grocery shopping environment is going to shift dramatically. These changes mean grocery stores have to be ready to evolve and explore how they can meet the needs of their consumers. The focus now should be on "maintaining the momentum gained during the pandemic, identifying which consumer trends of the past year are permanent, and adapting and responding to life after the pandemic", according to Deloitte. 
Several grocery stores such as Rabba Fine Foods have partnered with delivery platforms to make shopping more accessible to their customers. Check it out here.